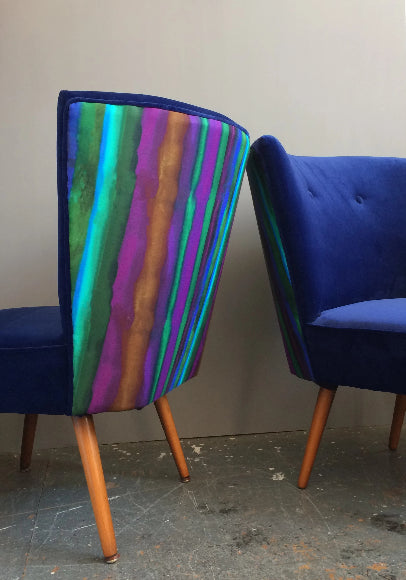 Vintage Velvet Cocktail Chairs
SECOND SALES DISCOUNTED FROM £950 - with bespoke designer fabric!
We love midcentury Cocktail Chairs!
This pair was sourced from East Germany (the original label is still there) and has now been fully restored and the re-upholstered using modern techniques.
The fabric is Linwood Omega Colbat on the front of the chair and the back has been covered with a fabric from Valentine Fabrics.
About Valentine Fabrics:
The designer Alison McKenna, who produces designs for fashion and interior companies, has used colours inspired by living on the South Coast. Blues, cool greens, browns, beetroot purple all radiate a quality of luxury and longevity. Oxygenating fresh tones that harmonise, balance and ground us in nature.
All of Alison's design begin on paper, hand painted in gouache, acrylic, watercolour or ink. She then scanned the images, digitally manipulate them and put them into a seamless repeat. Finally it is digitally printed on fabrics.
Made from:
The frame is made of solid wood. The upholstery which has been entirely re-done included serpentine zig zag springs, insulation pad, high quality foam, polyester wadding, wool barrier cloth and Linwood Omega velvet at the front and Valentine Fabrics chair on the back.
Pick up from Brighton or delivery to be quoted at time of purchase. 
Commissions
Kiki Voltaire is happy to undertake commissions, so please contact us by email or through our enquiries page if you would Kiki to re-upholster your existing chairs or to assist with sourcing a specific piece.
Subscribe to our newsletter and Facebook to hear about our latest chairs, notice boards and special offers.