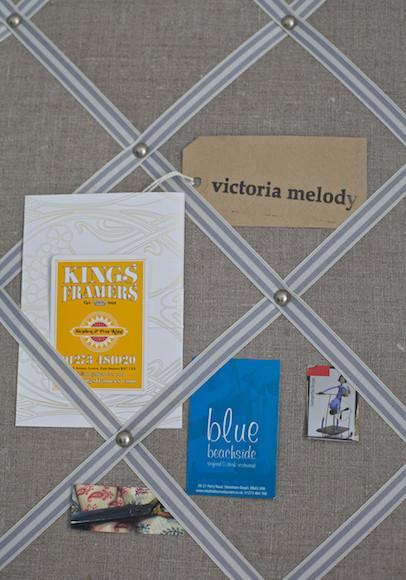 Fabric Notice Board | Natural Linen
"Wonderful and bespoke! We love our made-to-order notice board. It is very well made - sturdy and elegant. Stephanie was expedient in sending me samples fabrics and ribbons and was also very quick to respond to questions. A pleasure!" Madeline

Our handmade upholstered fabric notice boards provide a stylish solution for holding cards, invitations, photos, business cards, children's drawings, magazine clippings, reminders. They are a great addition to keep organised in your studio, office or children bedrooms.
Our Fabric Notice Board | Natural Linen | Stripey ribbon are handmade to order:
Upholstered in 100% natural French linen
Choice of ribbons
Available in 4 sizes – 60x60cm, 60x45cm, 60x80cm, 60x90cm
Option to have a cork 6mm backing the ply board, to allow the use of pins
Supplied with picture fixings
Made with sustainable material because we love our planet!
General Information
All our products are handmade to order in our Brighton studio (UK)
Made-to-order products are non-returnable
Notice boards are made from plywood, polyester wadding, FR fabric and upholstery fabric.
Fabric samples are available upon request (more choice of colour) to stephanie@kikivoltaire.com
Notice boards are made from ply, polyester wadding and upholstery fabric
Delivery Information
All Kiki Voltaire's notice boards are handmade to order and sometimes we need extra time to order supplies not in stock, therefore orders are generally dispatched within 10 working days. For urgent orders contact us at stephanie@kikivoltaire.com to let us know and we will do our best to help.
Shipping for our Classic and Small Contemporary Notice Boards and smaller sizes notice board (60x60cm, 60x45cm) is by EVRI, delivered within 3-5 days. Larger size notice boards are sent by Parcel Force, delivered within 1-2 days of dispatch.
Couriers will make 3 attempts to deliver the goods after which they are returned to Kiki Voltaire.
For enquiries about your order email: stephanie@kikivoltaire.com.
Bespoke Notice Boards
Kiki Voltaire is happy to produce bespoke notice boards, whether you simply require special fabric and ribbons, a notice board covered with your own fabric or need a custom size handmade to order. Please email: info@kikivoltaire.com with details of your enquiry.