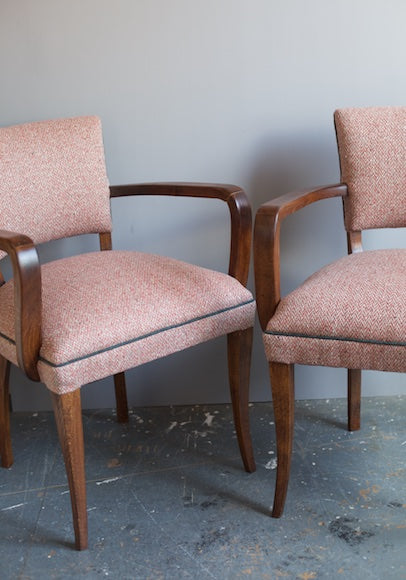 Bridge Chairs | Covered in Osbone & Little Markham Fabric
A pair of antique stylish French 1940s Bridge Chair, sourced from France. Those chairs were a commission for a customer we met at the Dulwich Artists Open House. She loved the Bridge Chairs in Robert Le Hero fabric which we had exhibited before and was looking for a similar pair of chair.
We had received those Bridge Chairs in beech timber from France. They had previously been stained in a walnut finished and applied a oil finish. We cleaned them and restored the wood as well as re-applied a natural walnut finish from France (Broux de noix), then there were entirely re-upholstered using traditional upholstery technique.

To finish we covered them in Markham Osborne & Little fabric.
Made from: The frame is made of beech timber which has been restored and re-stained, and finished with Danish oil. The upholstery has being entirely re-done included new springs, hessian, black fibre, rubberised hair, FR calico/barrier cloth and Markham, Osborne & Little fabric. Kiki Voltaire Products are made in our Brighton studio by a professional upholstery.
Measurements: Height: 80 cm including legs - legs 37cm, width: 50cm including arms, depth: 50cm
The versatile style and compact size of French Bridge Chairs allows them to fit in any room such as a lounge, bedroom or office.
For similar chairs contact: stephanie@kikivoltaire.com