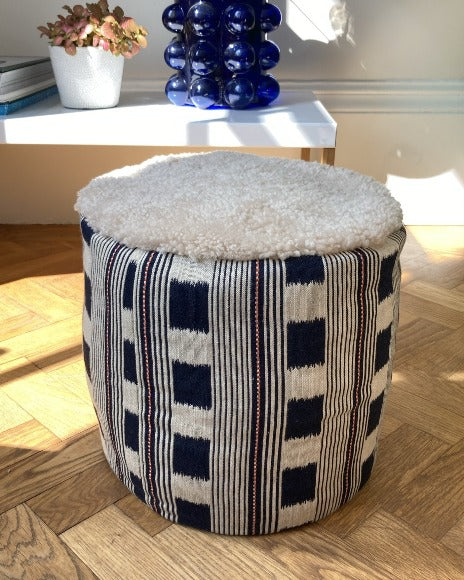 Pouffe Collection
SHEEPSKIN POUFFE COLLECTION 
Bring nature and comfort into your home with this cosy, comfortable bean bag covered in a sheepskin top and Christopher Farr designer fabric. They are filled with organic buckwheat husks which is a sustainable alternative to polyethene filling. 
Ideal as a spare seat, footstool or stool that you can carry around the home to use wherever you need to! 
Handmade in our Brighton studio. 
The bean bag vary slightly in sizes 35/40cm height and 35/40cm diameter. Weight 7 kg. 
It comes with a handle to carry it around. 
Zipped across the base for ease of refilling.
Bespoke size available on request: Email: info@kikivoltaire.com.
The filling is made of organic buckwheat HUSKS, used traditionally in Japan for pillows, called 'Sobakawa', on account of their health and environmental benefits.
· Long-lasting
· Hypoallergenic and dust mite resistant
· Organic
· Natural plant waste product
· 100% compostable
A wonderful alternative to polystyrene filled bean bags. What's not to like?
This product is a collaboration with Helen Atherton Designs.